Image of Aunt Jane
Nancy McBride's painting of her aunt, Jane Jacobs
Growth By Design: The Interplay Between Urban Development and Urban Design
The Worcester Regional Research Bureau kicked off Jane Week with a forum about urban design. Boston based architect Tim Love was joined by a panel representing Springfield, Lowell, Northampton and Boston.
Learning how other cities demand fine design
Panelists included Michael Dipasquale of the UMASS Design Center in Springfield, Carolyn Misch, Senior Planner from Northampton, Claire Ricker, Chief Design Planner of Lowell and Kairos Shen, former Chief Planner from the Boston Redevelopment Authority
Advice to Worcester
"Worcester should be asking for high-quality developments. And your'e on your way... maybe you need to be a little bit more vocal and say, 'we're small and we're growing but we know quality when we see it.'" Kairos Shen
"A lot of people, especially younger people... want to go to cities because they're quirky, especially these former manufacturing places... Worcester has come a long way, but I would not lose that identity." Michael DiPasquale
WPI Architecture Students Re-Imagine Notre Dame
Teams of WPI students present their ideas for creative reuse of Notre Dame des Canadiens Church. The church could be an art museum, a Quincy Market type of project.
Woodland Academy School Route Clean-up Walk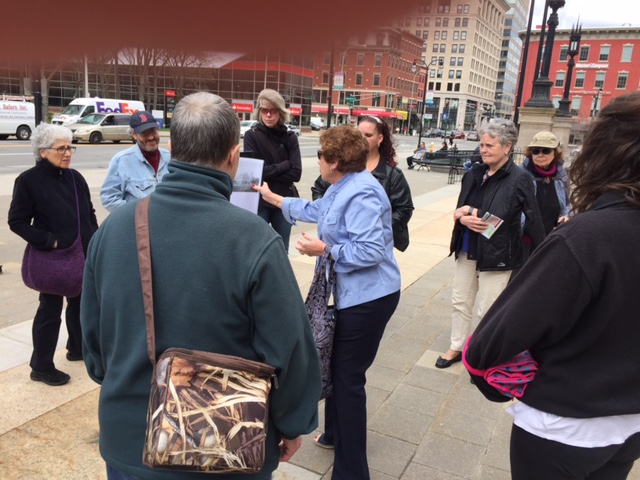 Worcester City Hall: A Palace For the People
Marilyn Polito, docent for Preservation Worcester, led a half an hour flash tour during the lunch hour on Wednesday, May 3rd.
A Taste of C.H.I.P. (A Community Health Walk)
Dr. Mattie Castiel and Dr. Michael Hirsch led a walk to highlight all the ways Worcester is becoming the healthiest city in the country. #healthy2020
Starting off with Yoga at the Common
We got fresh produce from the REC mobile market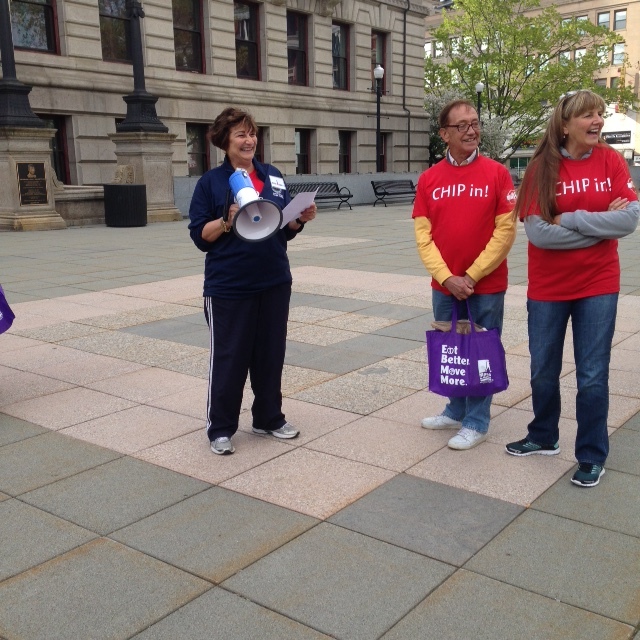 A Walk for All
People walked. People strolled their babies. People biked the route.
We learned about ACE (African Community Education)
We found hidden pocket parks!
Earn-A-Bike at Stone Soup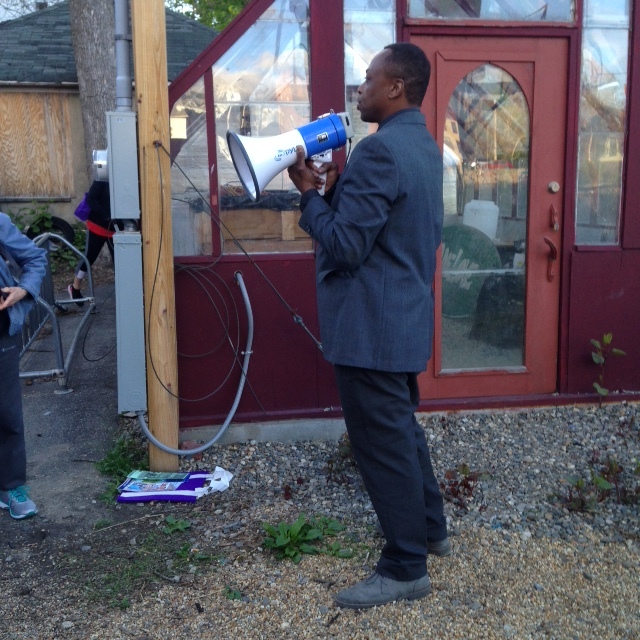 A Hydroponic Greenhouse at Stone Soup
We learned about growing a locally based food economy and the role of this worker coop at Stone Soupl
Home Depot Builds Us A Pop-Up Parklet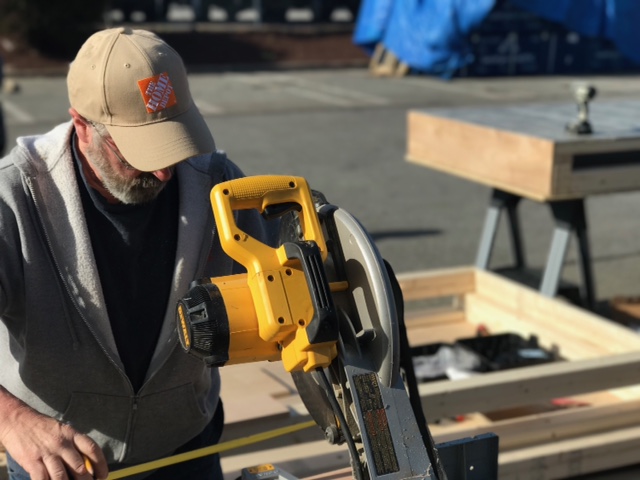 Worcester Vocational Students Baked the Jane Cake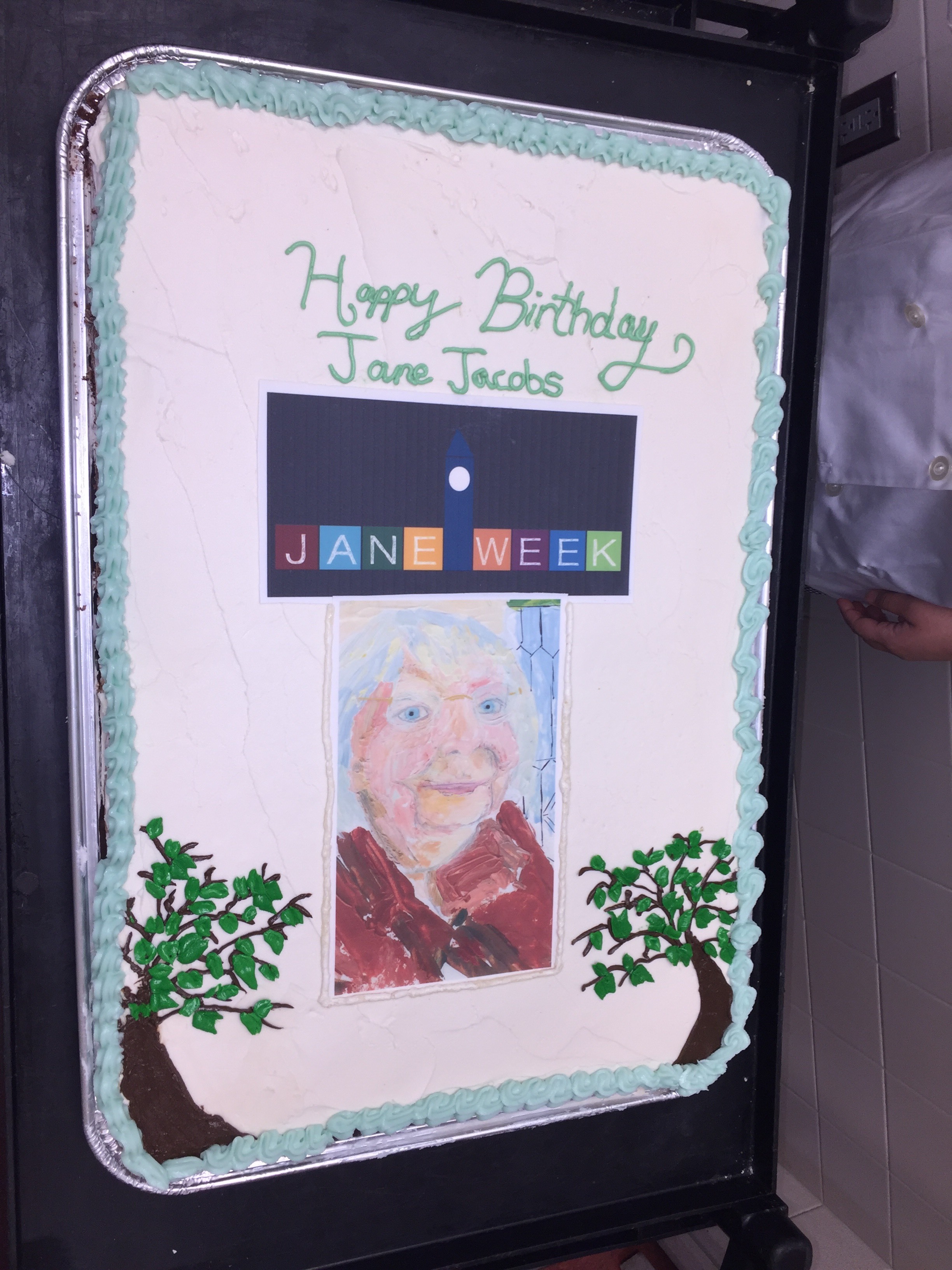 Setting up the Parklet
Thursday, May 4th, We pop up a parklet in front of Deadhorse Hill on North Main in two on-street parking spaces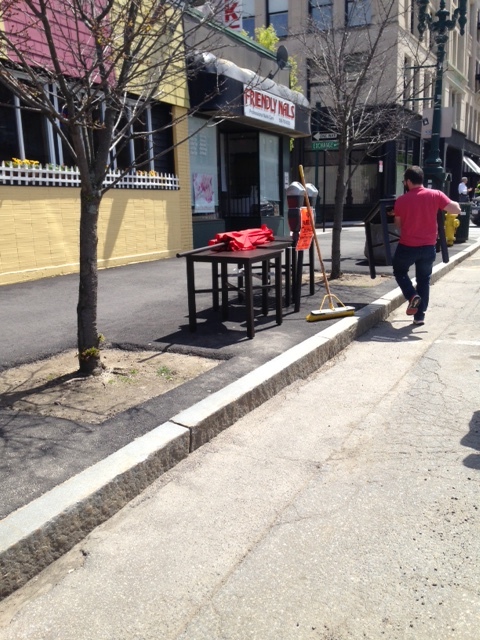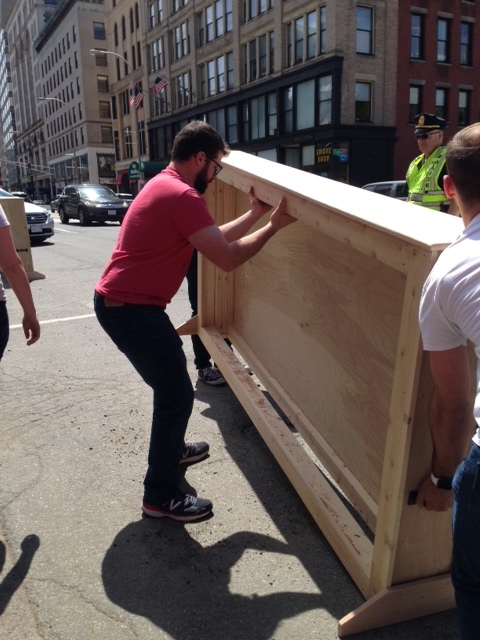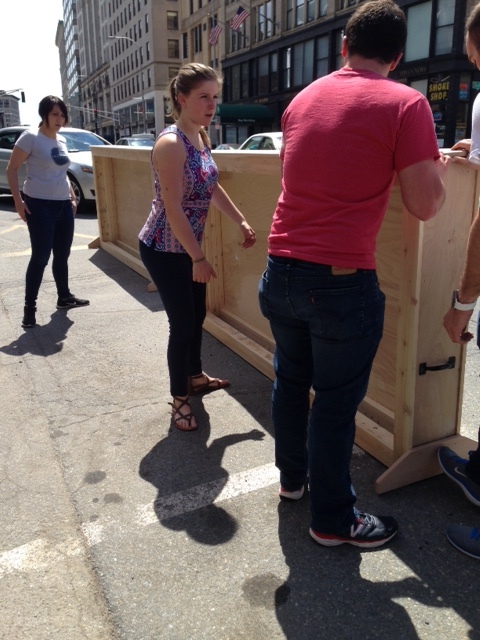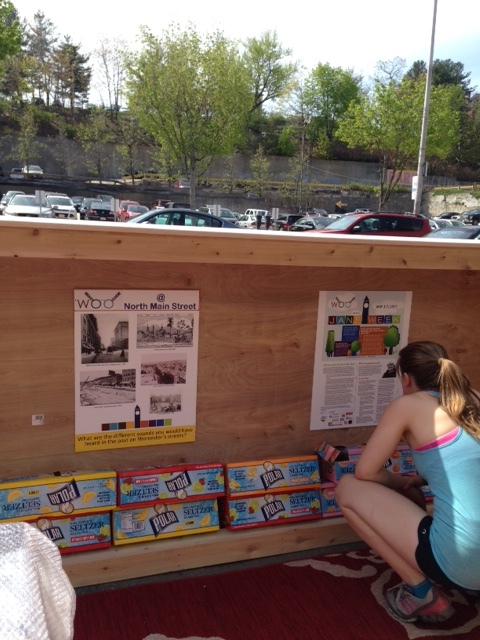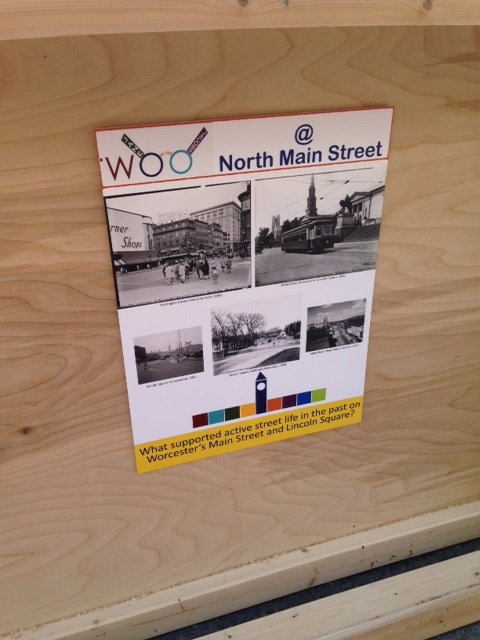 Old Historic Photos of North Main Street
Thanks to Worcester Historical Museum, we were able to display old photos when North Main was hopping!
Parklet is Ready and Waiting for a Party!
Building Your Own Ideal City
Betsy Loring, Director of Exhibits at EcoTarium brought magnets and trays from the City Science exhibit to the parklet.
Happy 101st Birthday, Jane Jacobs
Nancy McBride, niece of Jane Jacobs and State Senator Mary Keefe cut the Jane cake.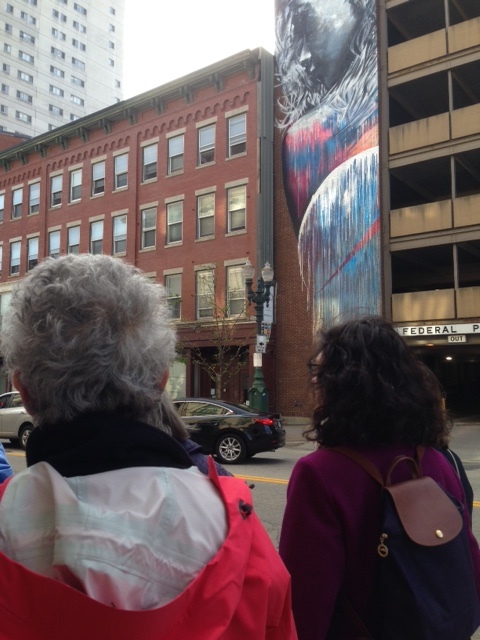 Worcester Wall to Wall
A community art walk with POW! WOW! Worcester featuring the stories of the downtown murals
Worcester's Famous Ghost Tour
12 hardy souls braved the rain to come and meet the ghosts of Worcester's past
Meet Jonas Rice (1672 - 1753)
Esther Howland Made the First Valentines
Abby Kelley Foster Came Back to Life in City Hall
Isaiah Thomas Read the Declaration of Independence
Thank you, Worcester Historical Museum for the Haunting!
Una Passaggiata: A Stroll Down Shrewsbury Street
Thanks to Marilyn Polito and Francis DeNicola, Preservation Worcester Docents. We began at Union Station.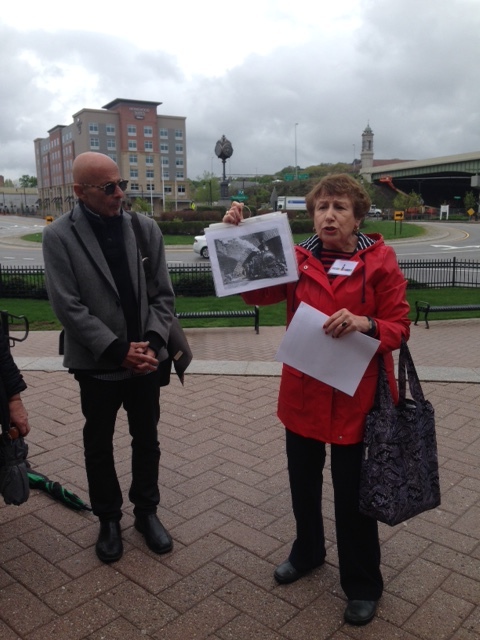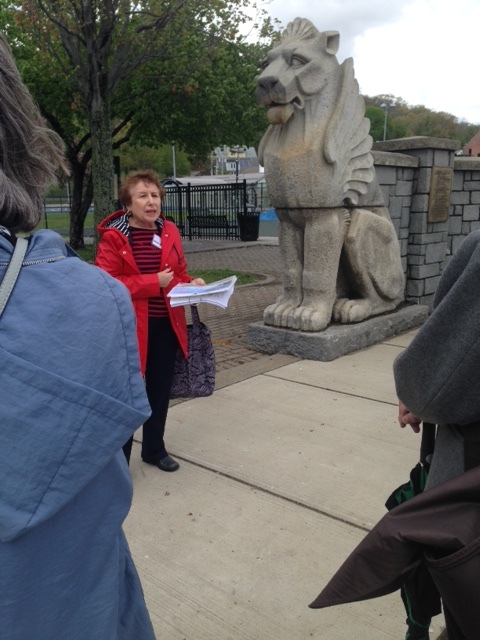 Kilby-Gardner-Hammond: Community Driven Revitalization in Main South
Casey Starr shows us "before" slides of the area prior to redevelopment
Outdoor seating facing the sidewalk.. a bit of Jane Jacobs' eyes on the street on South Main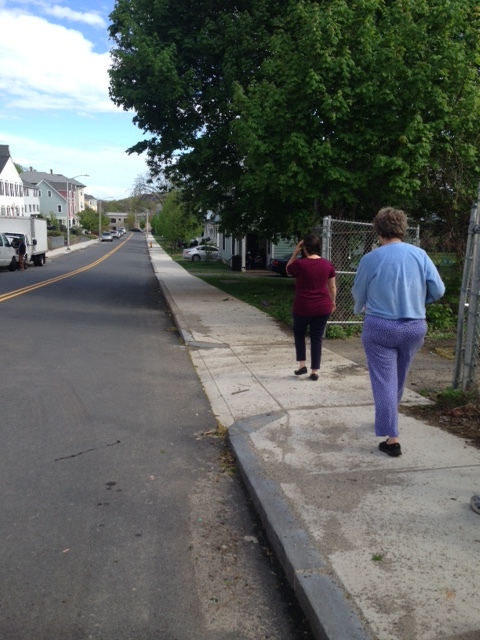 The Importance of Trees for Great Streets
A Juxtaposition of Two Development Projects
Two projects standing side by side. Which one promotes active street life? What are some differences between the two?
Solar Panels on a CDC Built Property
Bike Paths Provide Connectivity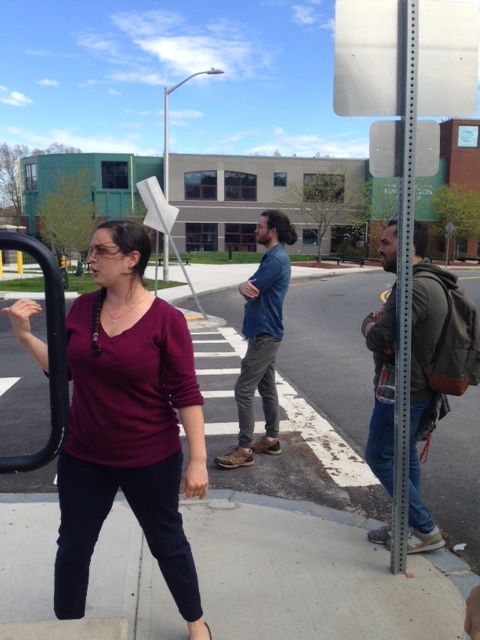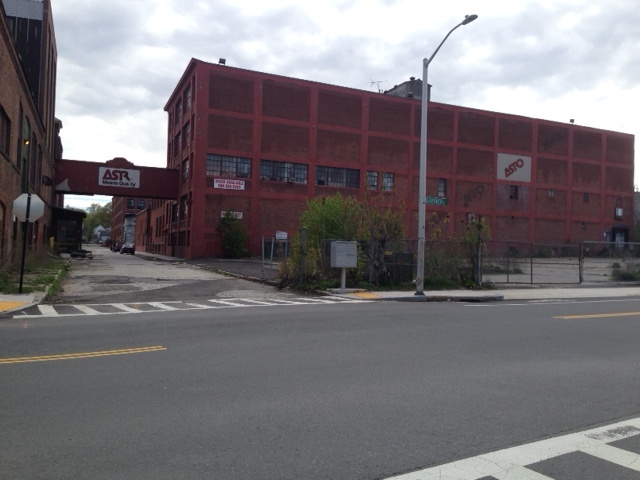 Can We Please Re-Use This Industrial Property?
Mills Converted to Housing
Healthy Neighborhoods Have Churches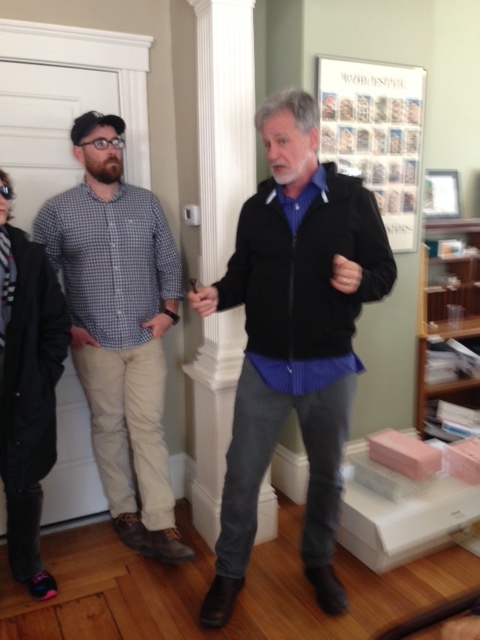 Religion and Radicals:Revisiting the Jewish East Side
Mullen Sawyer, Director of the Oak Hill CDC, invited the tour into their buiding, the former Samuel Wolfson residence
City Councilor Moe Bergman is our tour leader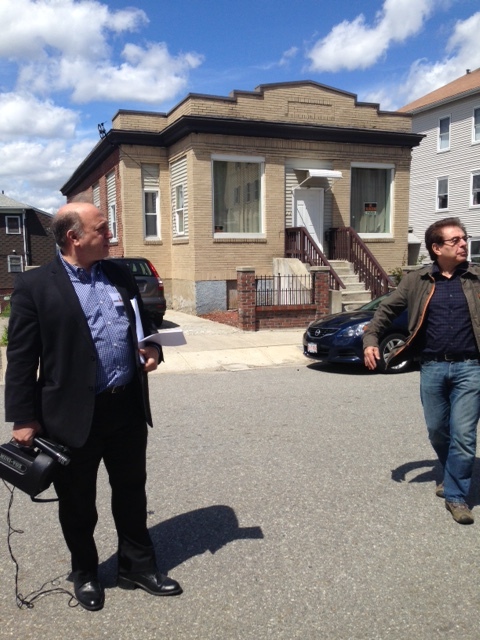 Former Site of the Neighborhood Mikvah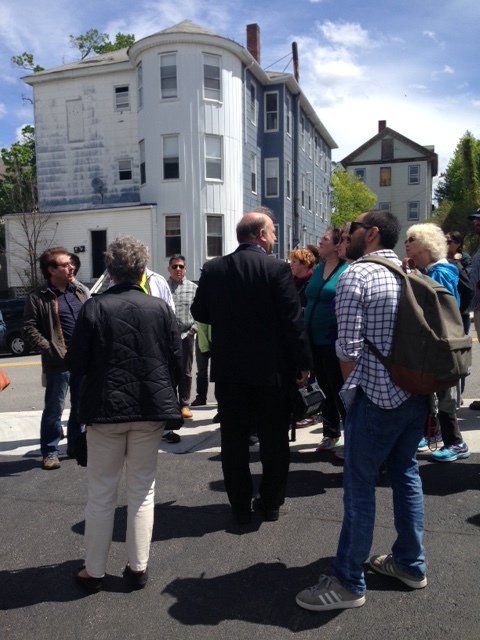 Former Shaarai Torah East
now converted to condo units
Frescoes on the women's balcony still grace the walls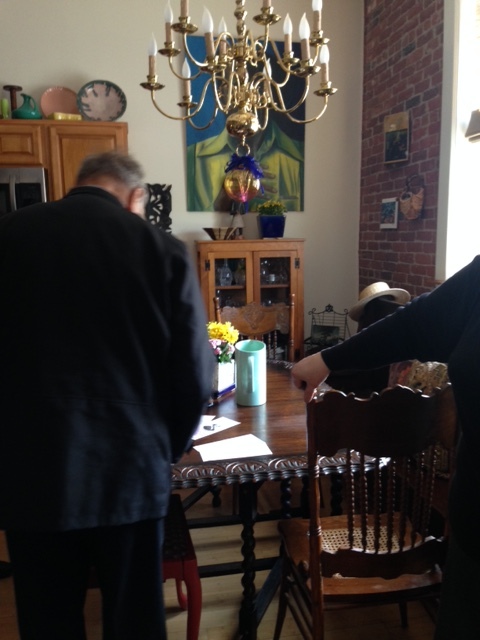 Some of the Condo Owners Let Us Enter Their Units
Where Famous Anarchist Emma Goldman Once Served Ice Cream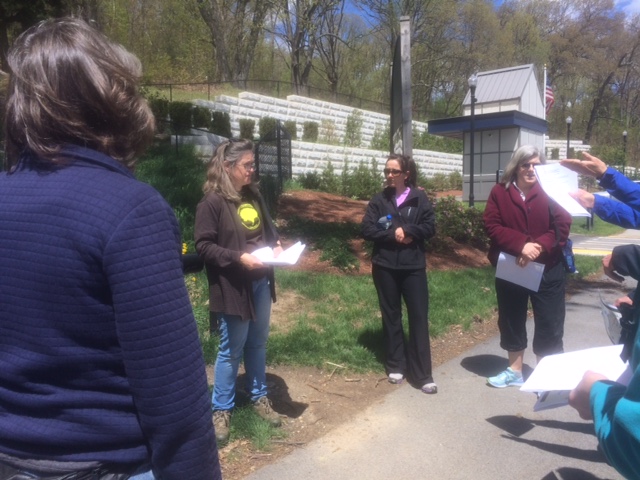 Hiking the East-West Trail at Newton Hill
Thanks to Ruth Seward, Worcester Tree Initiative and Stacy Hill, Friends of Newton Hill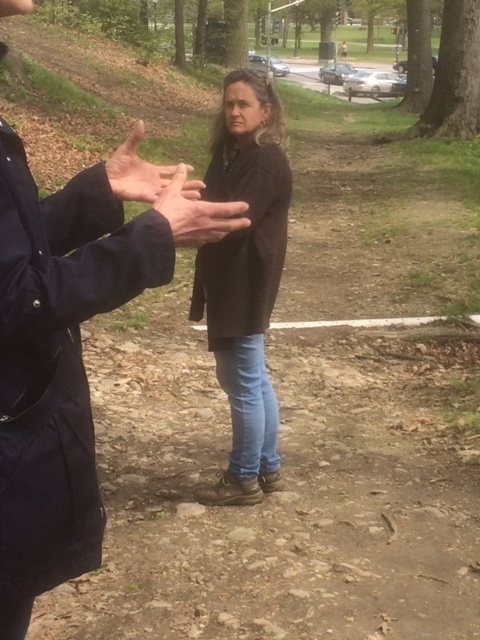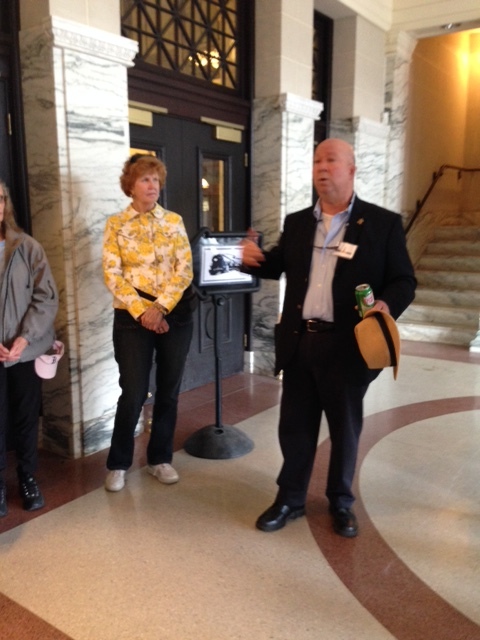 The Canal District, Past, Present and Future: Water Powered
Thanks to John Giangregorio and JoAnn Mills for leading a tour of the Canal District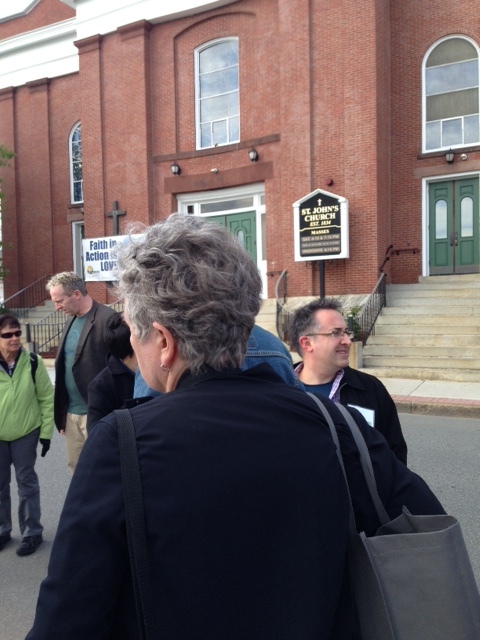 Dino and Robin Lorusso Accept the 2017 Jane Award On Behalf of Crompton Place
At the pop-up parklet on May 4, 2017, Nancy McBride shares some stories of her aunt, Jane Jacobs before cutting the Jane cake.
Jane Jacobs in the Woo would like to thank our sponsors: the Greater Worcester Community Foundation, Home Depot, Polar Beverages and Table Talk Pies as well as our partners: Preservation Worcester, WalkBike Worcester, Worcester Historical Museum, Mass Audubon, Worcester Tree Initiative, Action Worcester, Worcester Sun, Massachusetts Smart Growth Alliance and the Worcester Regional Research Bureau.